Gentle Classical Yoga
1pm on Tuesdays and Fridays - Ongoing Enrollment & Drop-ins Welcome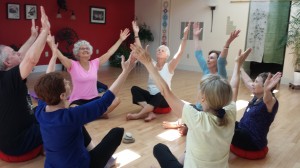 In this one hour class students will enjoy a series of postures designed to increase flexibility, strength, balance, range of motion and stability.  This gentle yoga class incorporates traditional postures, moving from seated to kneeling to standing.  Each class will begin with centered breathing and gentle stretching and end with shavasana (relaxation) and meditation.  Students are carefully cued through transitions and modifications are offered for each pose.  Suggestions are made in the use of supportive props, such as blocks, cushions, blankets, a chair or the wall.  Each student is encouraged to let their body be their guide as they move to their gentle edge.    Yoga means 'to unite' or 'to yoke'.  The goal in this class is to unite the body, mind and spirit to improve posture and alignment, deepen the breath, increase circulation and relax the mind.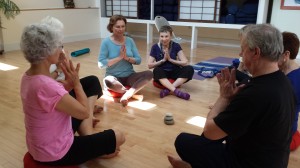 This class is suitable for students returning to yoga after a pause, beginning students, people in recovery from illness or surgery and those with a diagnosis of osteoporosis, COPD, heart disease, arthritis, high blood pressure, memory loss or chronic pain or anyone looking for an easeful, peaceful experience.
As B.K.S. Iyengar has stated, "It is never too late in life to practice yoga. If it were, I should have stopped my practice long ago. …I have been doing yoga for over fifty years… You can do it, but do it judiciously, knowing your capacity. …Yoga cannot be rushed."
Seniors 70 years of age and older enjoy special pricing.
6 class membership for $60.00
10 class membership for $90.0
Instructor Sherry Evans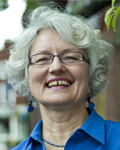 Sherry Evans (200 RYT) is a certified yoga teacher in the Classical tradition (YogaLife Institute) and has been teaching gentle yoga for over five years, at Gateway since it opened in 2012.  Advanced studies include Restorative Yoga with Sudha Carolyn Lundeen and Jillian Pransky, Trauma Sensitive Yoga with Dave Emerson and Yoga for Seniors Teacher Training at the Kripalu Center for Yoga and Health with Carol Krucoff and Kimberly Carson.  Sherry also teaches yoga for the Hampton Falls Recreation Department and the Portsmouth Senior Center and offers a monthly Restorative Yoga class at Gateway.
To contact Sherry:  sherryevans13@gmail.com
---